I appologize for my absence, I was kinda... GETTING MARRIED! 
See: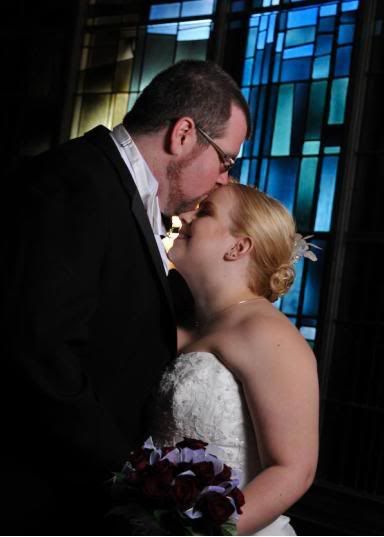 Ok, so now that I'm married and back from an amazing 2 week honeymoon, I am dying to cook. Last night I made "Hey look, kidney beans" Chili. No pics unfortunately, the camera was still packed (and tired). But here's the basic idea:
Random Chili
Ingredients: 
1lb ground beef
1 16oz can petite diced tomato
1 8oz can tomato sauce
Appx. 6oz beer
2 cans kidney beans
1 tbsp dried minced onion
Chili powder to taste - I used about 3 tbsp
Red pepper to taste - I used about 2 tsp
1 tbsp minced garlic
Black pepper to taste
Cooking spray
Directions:
Spray dutch oven with cooking spray, brown ground beef with 1/3 of each of the spices (peppers) and all of the garlic and onion. 
Once browned, add the diced tomatos and tomato paste, along with the beer.  Drain and add kidney beans.
Add the rest of the spices. Heat mixture until heated through, then drop heat to low and simmer for at least 1 hour.
Serve over rice with sour cream and cheese (if desired)
Ok, and now for tonights dish. We got shallots today at the grocery store, they looked so good and they inspired my chicken dish. I also wanted some Thanksgiving-y food since I missed the holiday due to my honeymoon.
Baked Chicken with Garlic and Shallots
Ingredients: 
3-4 boneless skinless chicken breasts
6 shallots, remove outer skins and cut in half
3 tbsp butter
2 tsp thyme
2 tsp rosemary
Coarse salt and pepper to taste
1 tbsp minced garlic (or 8 pealed garlic cloves, I was just kinda lazy)
Directions:
Preheat oven to 425, and while oven is preheating, put the butter into the caserole dish you'll use to bake the chicken in the oven, remove when the butter is melted.
In the caserole dish with the melted butter, add the thyme, rosemary, garlic, shallots, salt and pepper, and make sure all onions are coated in the butter. 
Dredge the chicken through the buttery spice mixture then line the chicken breasts in the caserole dish. 
Bake for 50-60 min or until chicken is baked completely.  Serve and YUMM!
Side suggestions:
- Mashed potatos
- Stuffing 
- Scalloped corn caserole